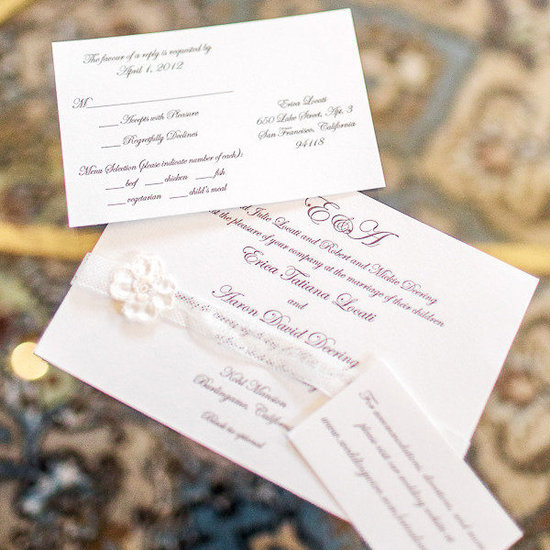 A save-the-date might be your guests' first impression of your big event, but is it imperative that it arrive embossed on heavy cardstock? With so many paper-light or paperless options out there, your wedding stationery could be the simplest way to trim back your budget and help you afford that honeymoon in the Maldives!
Investigate printing options. Letterpress may be the ticket to an expensive-looking invitation, but the price usually matches the appearance. Look into thermography, which provides similar raised printing for much less than traditional letterpress. Or, for casual wedding invites, laser printing is fast and inexpensive.
Go paperless. Evite may have been the first to market with online invitations, but plenty of other services have followed suit with gorgeous templates and customization options to create the online save-the-date or wedding invitation of your dreams. Try Paperless Post, Glo, or Pingg. Most options allow you to send an invitation and field RSVPs without a single stamp. Even if you send paper invitations, cut down on costs by asking guests to RSVP by email or on a password-protected website.
Print your own. If you're a whiz in Photoshop (or have a good pal who is), then think about designing and printing your own invitations and stationery. It might be more work, but you'll have the flexibility to choose any printing method that works with your budget, and you'll have the satisfaction of creating works of art for your big day!