Each year Pantone, the global authority on color, reveals its choice for the color of the year, signaling the color direction for interior design, fashion, cosmetics, and graphic design. This year, the color is Tangerine Tango, a vibrant shade that will breathe new life into 2012's color palettes. I recently chatted with Pantone's resident color guru, Leatrice Eiseman, executive director of the Pantone Color Institute, about what the color means for the new year. Let's learn more about Tangerine Tango!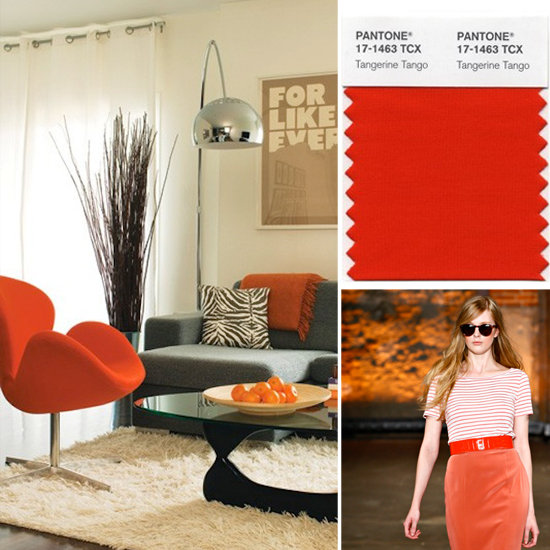 CasaSugar: Were there any major influences that contributed to Pantone's decision on Tangerine Tango for 2012?
Leatrice Eiseman:
The Color of the Year selection process is very thoughtful and time consuming. To arrive at the selection each year, Pantone quite literally combs the world looking for color influences. This can include the entertainment industry and films that are in production, traveling art collections, hot new artists, popular travel destinations, and other socio-economic conditions. Influences may also stem from technology, availability of new textures and effects that impact color, and even upcoming sports events that capture worldwide attention.
CS: What colors do you suggest pairing Tangerine Tango with?
LE:
It goes well with many colors that make for unexpected combinations. For example, pair it with an elegant wine color, such as Syrah or a Rhubarb Red. It's great with a slightly greenish blue, like Vallarta, or a hot pink called Cabaret for a retro look. Of course, it's always great with warm taupey tans like Tiger's Eye, and a special favorite of mine is a deep yellow green called Winter Moss. And there is the summertime staple of White Alyssum and Tangerine Tango.
Keep reading for more tips on decorating with Tangerine Tango and more gorgeous photos!