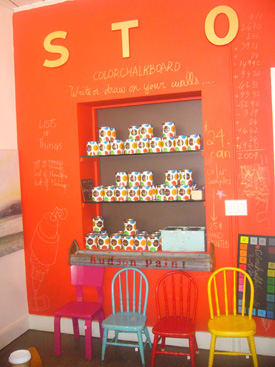 Splash some color on the writing wall!
Chalkboard walls
have been a trend in tots' rooms for a few years, but lots of moms long for a better option than the standard blackboard.
Hudson Paint's
100 percent acrylic chalkboard paints are available in a rainbow of 24 vibrant colors, adding some life and drawing space to the walls. Each quart of the low-odor paint ($25 each) is designed to cover 90 to 100 square feet, and only requires two to three hours of drying time between coats (a minimum of two coats is recommended). Like other
erasable wall options
, the added scribble space gives budding artists and everyday doodlers a set area to explore their creativity and leave their mark – be it on an entire wall like
Apple and Moses Martin's room has
, or on a smaller sliver (think back of a door).