The Sixth DIY of Christmas: Découpage Glass Key Bowl
Welcome to the sixth project in my 12 DIYs of Christmas series! We all go through that mental checklist (keys, wallet, phone?) before we set foot out of the door each morning. Thus, having a place to stash your must haves is a big help in the tardiness (and sanity!) department. So I made this découpage key bowl as a gift for a friend. With patience and a few supplies, it's an easy project that makes a great holiday gift!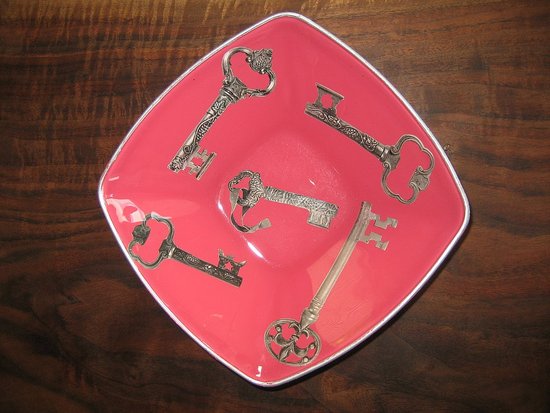 I actually got the antique key images from a book about corkscrews (they're corkscrews!), but any pretty images will do. If you also want to use images from a book, just make a photocopy of the page onto standard printer paper.
Supplies:
Key images, or another motif
Mod Podge (a glue/sealer found in most art/craft stores)
A glass bowl
Two foam brushes
Latex paint the color of your choice
An acrylic sealer (optional)
To learn the steps, read more.
The steps:
Cut out the image(s) you want to use from the background. Magazines, books, and antique prints are a great place to look for your images.
Clean the glass bowl or plate (a household glass cleaner will do).
Find a household object to prop up your bowl, with the underside facing up, so you don't paint the table you're using.
Use a foam brush to apply Mod Podge to the front of your image. Adhere the image to the underside of your bowl, so you can see it from the front.
Seal the entire back of the plate (and back of image) with a few coats of Mod Podge. Let each coat dry before you move on to the next. Let dry.
Use a different foam brush to apply a coat of your Latex paint to the back of your bowl or plate. Let dry. Continue to add coats until it is no longer see-through from the front, letting dry between coats. The number of coats necessary is dependent on the darkness of the paint color you choose.
Once dry, seal the paint in with Mod Podge or an acrylic sealer.