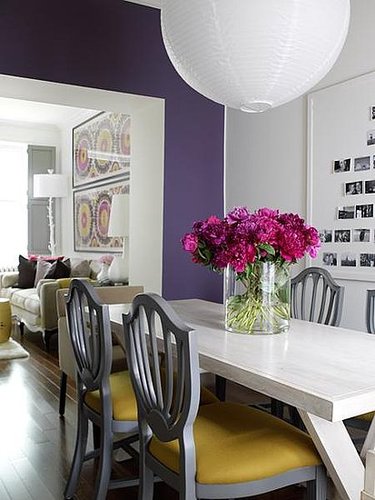 A trestle table is the oldest type of American table, and is described in mid-17th-century inventories as a "table board and frame." Often a trestle table is made from a narrow, long plank resting on two or more oak trestles, held in place by a brace that passes through the trestles and pegged in place. This trestle table, in
Canadian House and Home
designer Emily Walker's home, looks absolutely gorgeous in this dining room. The traditional shape of the table is offset by more modern chairs, an eyecatching overhead light, and a deep plum-colored accent wall.
Want to see some of my other favorite trestle tables? Then read more.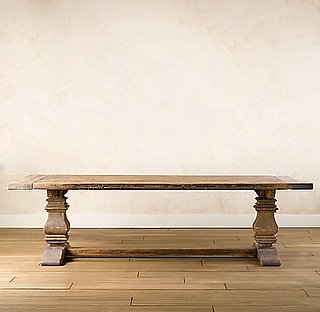 I'm a big fan of this
Restoration Hardware Salvaged Wood Trestle Table
($3495). Handcrafted from reclaimed pine from a Great Britain distillery, its elegantly distressed look would look perfect in a country home or a chic city loft, depending on your choice of chairs or benches. It can accommodate a crowd, too, and can sit up to 12 people.