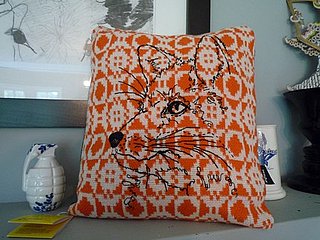 Are foxes the new It animal in the decorating world? From the amount of these sly creatures I've found in catalogs and art sites lately, my answer is yes. It also doesn't hurt that Wes Anderson's new movie
The Fantastic Mr. Fox
features a too-cool fox voiced by the always awesome
George Clooney
. So, you might want to jump on this animal motif bandwagon!
Start your collection with this Fantastic Mr. Fox Pillow ($83) from Etsy seller angharadjefferson. This awesome vintage '60s fabric has been embellished with a cool fox pattern by the artist, using a combination of hand embroidery and freehand machine drawing. The back of the cushion is a blue and white striped cotton, and is finished with a vintage button to close.
Want to add to your foxy finds collection? Then read more.