Mother's Day Brunch Ideas
Three Perfect Looks For the Ultimate Mother's Day Brunch
If you're looking to get your friends together and celebrate Mom in style, then do it with a brunch! Aside from good company, brunch is the perfect way to toast to your leading lady. Knowing that no two moms are alike, we've created three tablescapes — casual, elegant, and outdoors — to make Mother's Day special. Find the one that's right for you (and Mom) below!
The Elegant Brunch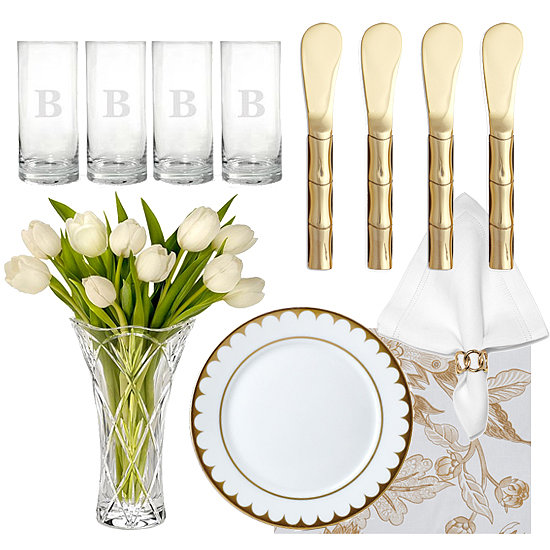 An elegant brunch will set this Mother's Day apart from the rest. Keeping the bright colors mute, we chose a neutral palette of golds and creams beginning with the tablecloth ($70-$80). Metallic touches are key; incorporated through gold-rimmed butter plates ($50), bamboo spreaders ($145), and napkin rings ($48). Since we're going all out, monogrammed glasses ($50) seemed fitting, as well as a crystal vase ($59) filled with tulips or her favorite flower.
The Casual Brunch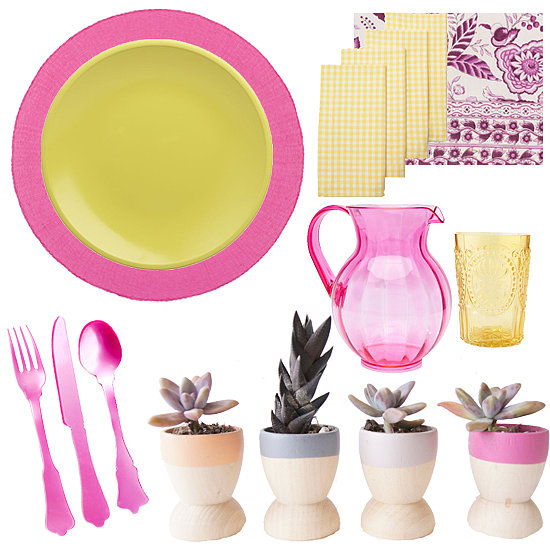 Think of the casual brunch as one step above breakfast in bed. For this type of tablescape, it has to be something where guests feel comfortable and Mom feels special. Make any table fit for a special occasion by covering it with a bright, patterned tablecloth ($40-$50). Then, add complementary pops of color through paper placemats ($15) and simple yellow plates ($5). Continue to layer with touches of yellow through gingham napkins ($20) and vintage tumblers ($8). A bright pink pitcher ($40) will showcase mimosas perfectly, and pink utensils ($22) give plastic forks a run for their money. Lastly, ditch the stuffy flowers and scatter these tiny succulents ($30) around to complete your tablescape.
The Outdoor Brunch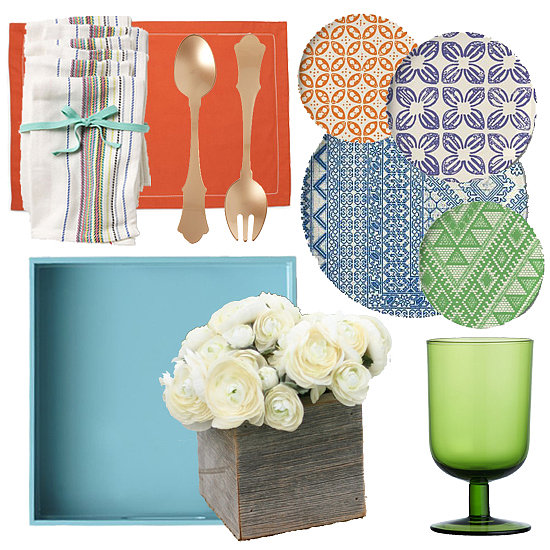 Aside from stylish, an outdoor brunch has to be functional — after all, it is outside! Simplicity is key and starts with a texture like linen placemats ($38) and napkins ($32). Add color and pattern with plates ($36) that are anything but boring and glasses ($5) fit for homemade Bloody Marys. A large tray ($24) makes bringing food from the kitchen easy, and we consider gold utensils ($40) essential. Lastly, complete the look with a rustic flower box ($18) and roses.