Inspired: Cameron Diaz's Reverse Appliqué
Inspired: Cameron Diaz's Reverse Appliqué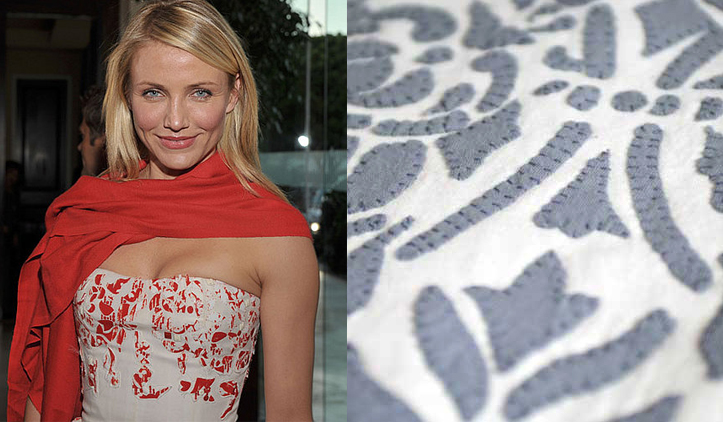 1
Inspired: Cameron Diaz's Reverse Appliqué
Cameron Diaz's Oscar de la Renta dress, which she wore at the Women in Film Awards, reminded me of another beautiful lady who's fond of appliqué and reverse appliqué. In fact, this designer marks them as signature techniques in her fashion and home décor lines. I've featured her work a few times in the past, along with her inspiring book.

To find out who the designer is, read more.
Cameron's dress reminded me of designer Natalie Chanin, who's made appliqué and reverse appliqué two of her signature techniques. Reverse appliqué is a method creating a cut-out look in a piece, and often uses a contrasting color. In Cameron's dress, the top layer (the white layer) would be the part that would be cut out, while the orange fabric would be laid underneath and stitched over. Natalie's company, Alabama Chanin, has created pillows, dresses, T-shirts, and napkins that use reverse appliqué. This designer claims it's easy to learn (I've done it once or twice, and I'd have to agree), so if you love the look as much as I do, buy her book, which has patterns and directions for projects using appliqué.
Latest