Get the Look: Brüno at the Roosevelt Hotel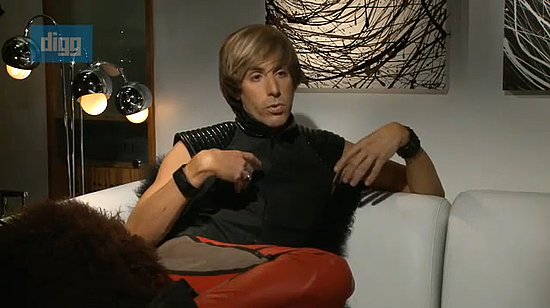 I just watched Digg's
Dialogg with Brüno
, which took place in
Hollywood's Roosevelt Hotel
. I couldn't help but notice the set's hip modern décor, and being the Brüno lover that I am, I thought I'd take the chance to help you get the look of this hilarious scene. If you're looking for the gay Austrian fashion reporter's leather ensemble, I'll be no help there. For the furry pillows, chrome floor lamp, white leather sofa, and artwork, read more.
The chrome floor lamp with three arched eyeball-like shades is a 1970s Italian classic, likely vintage. You'll see lots of variations on this design, with fewer or more arches, as well as table lamps and suspension lights, if you search "chrome floor lamp" on eBay and online auction houses like 1st Dibs.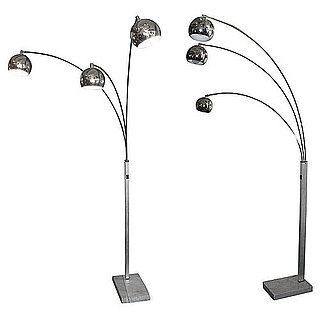 In 1st Dibs' current selection, this set of
Two 1970s Italian Floor Lamps
($3,950) are your closest matches. But, the
Tri-Fixture Chrome Floor Lamp
($1,200) offers a similar look.
If it's the Mongolian fur throw pillows, contempo white leather sofa, or abstract artwork you're looking for, here are a few items to help you get the look: