If you fantasize about throwing the sort of outdoor bash you've pinned countless times but think you lack the culinary and styling skills, think again. It's all about taking the right shortcuts to create a major impact with little effort. Keep reading for our lazy girl's guide to pulling off a stylish Summer soiree that only looks like it took major planning.
— Styling by Angela Elias & Emily Bibb
Source: Kristen Loken Photography [1]
Prepare a Playlist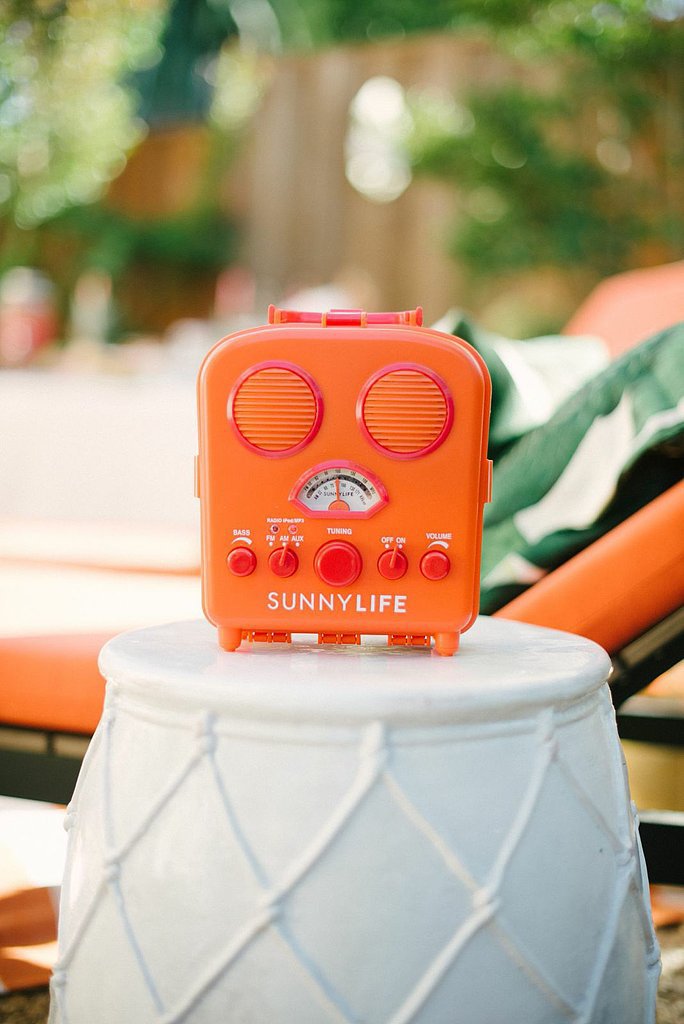 This retro-inspired portable mp3 player [2] is just as handy at the beach, campsite, or backyard. Have a playlist that starts off mellow but ends with plenty of dance-worthy tunes.
Source: Kristen Loken Photography [3]
Try the Tropical Fruit Trick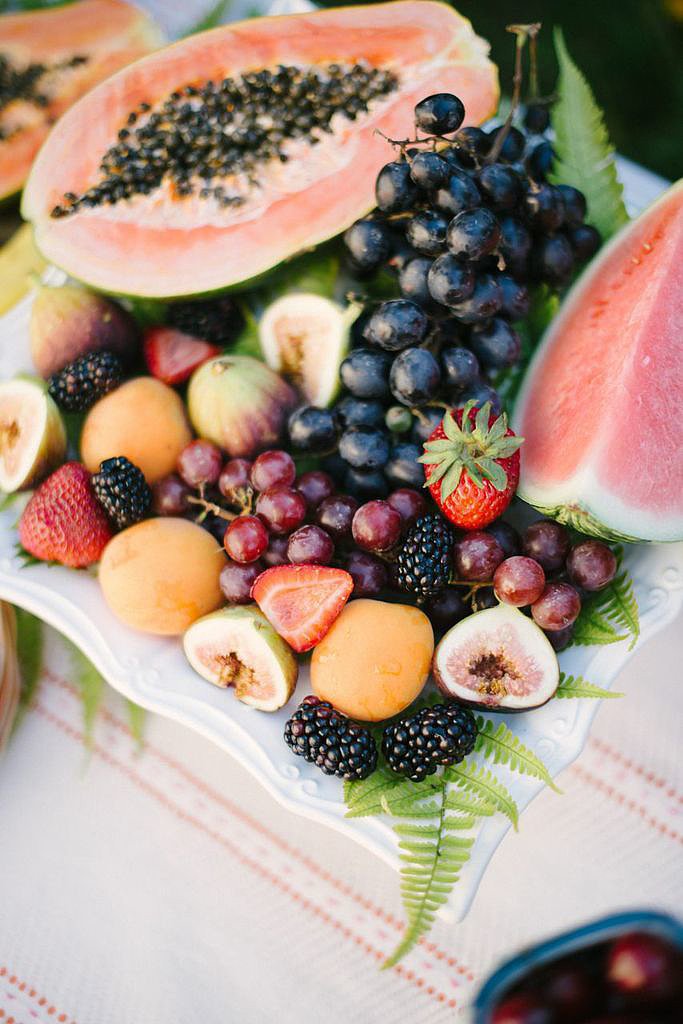 If the pressure to impress guests with culinary wizardry gives you performance anxiety, you're not alone. Retire that apron, and whip up a jaw-dropping centerpiece that doesn't require cooking or flower-arranging skills. The trick? Tropical fruit.
What You'll Need: A cake stand, ferns from a grocery store bouquet (yeah, we said it), a mix of larger wow-factor fruits like papaya and watermelon and smaller no-slice fruits like berries, apricots, grapes, and figs.
Source: Kristen Loken Photography [4]
Have an (Easy) Signature Cocktail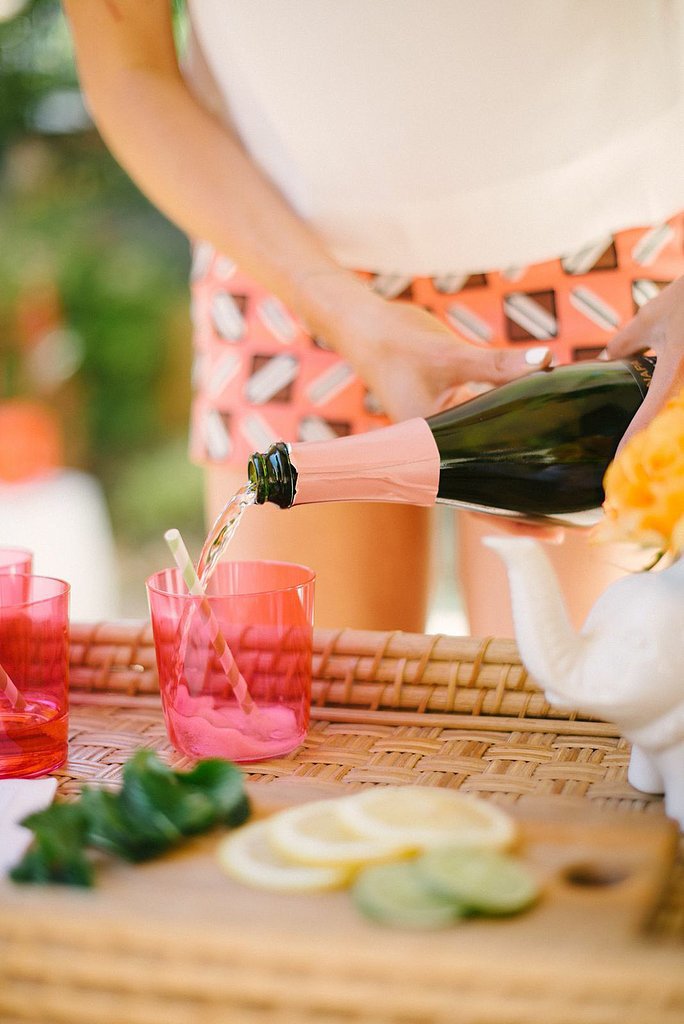 And we mean easy. Our go-to? A glass of champagne topped with elderflower liqueur. Guests won't be intimidated to mix their own and can experiment with adding embellishments like a lemon twist or fresh mint.
Source: Kristen Loken Photography [5]
Bust Out the Spray Paint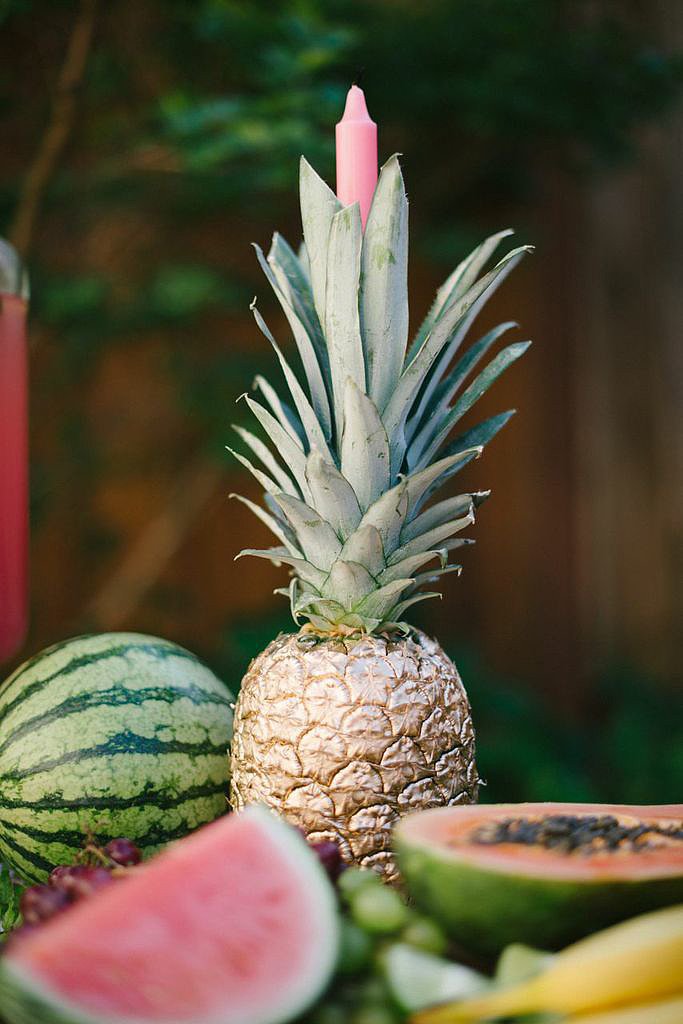 Never underestimate the power of gold spray paint. Sure, you might already be using it for DIY home projects [6], but we love the idea of spray-painting fruit to create a candleholder for your table.
What You'll Need: A pineapple, gold spray paint, and a taper candle. Try using flameless taper candles [7] to avoid setting fire to your gorgeous spread or worrying about a breeze blowing out the flame. Twist several leaves off the top to create a hole for your candle.
Source: Kristen Loken Photography [8]
Collect Quirky Vessels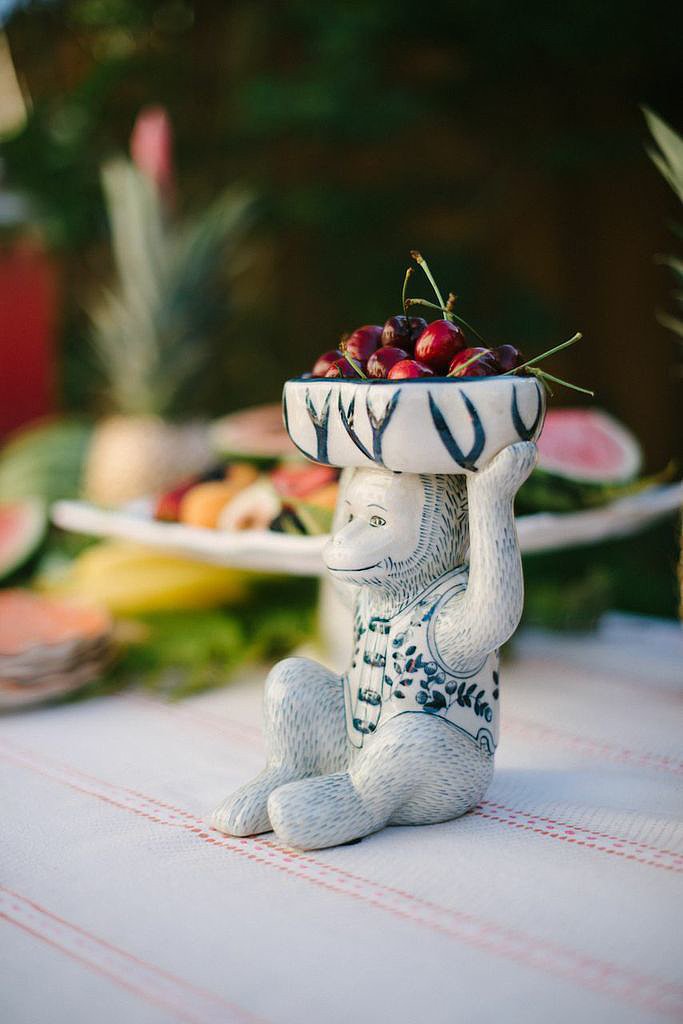 We found this little guy at Furbish Studio [9], but you can also peruse your local thrift store or flea market. Quirky vessels add loads of personality to a table and are guaranteed to be memorialized in at least one Instagram picture.
Source: Kristen Loken Photography [10]
Invest in a Serving Board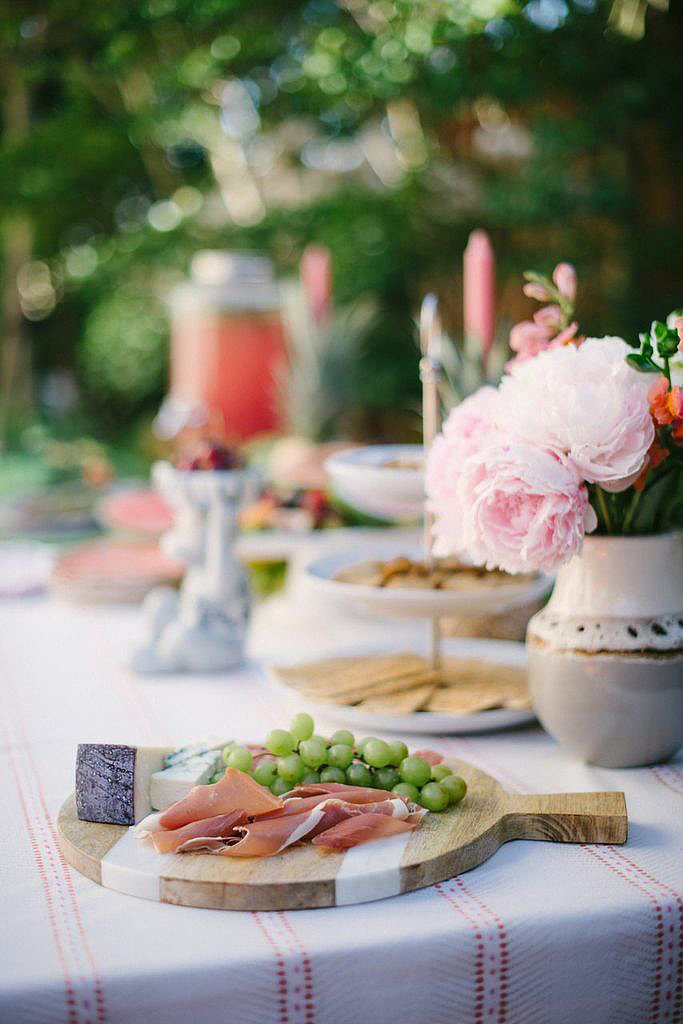 There's a reason why pretty serving boards made our list of 11 wedding registry essentials [11]. Slap a couple of cheeses, some yummy cured meats, and a bunch of grapes on one, and you're basically photo shoot ready in seconds. We're digging the marble stripes of this beauty from Terrain [12].
Source: Kristen Loken Photography [13]
Layer It Up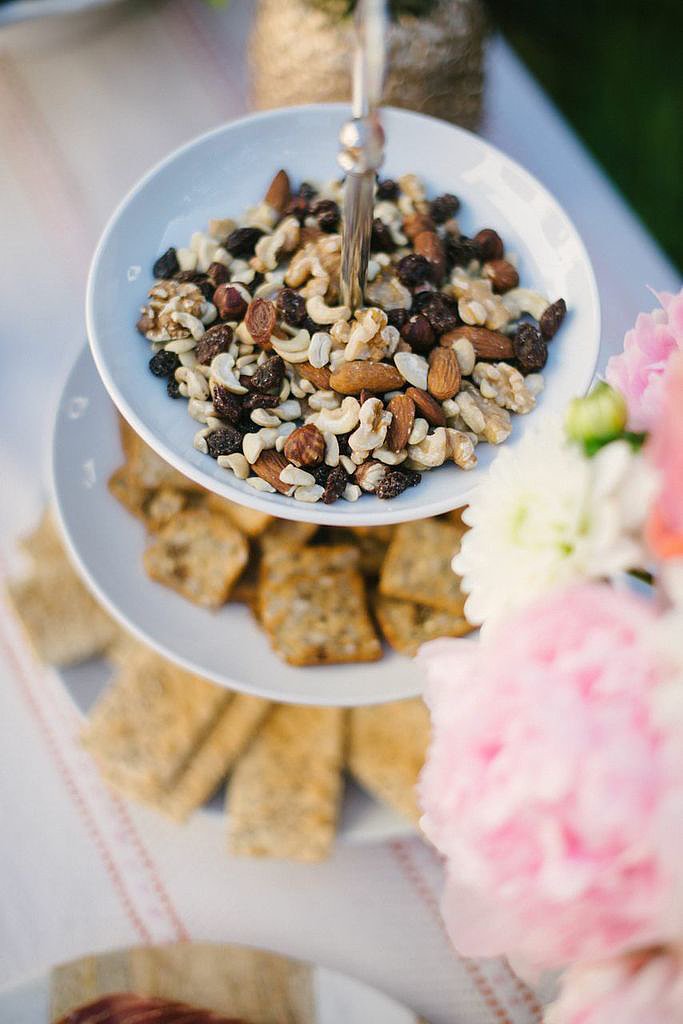 These tiered stands may be intended for teatime staples like scones, but they're perfect for holding an assortment of crackers, sliced breads, and nuts without hogging your table surface.
Source: Kristen Loken Photography [14]
Rethink Vases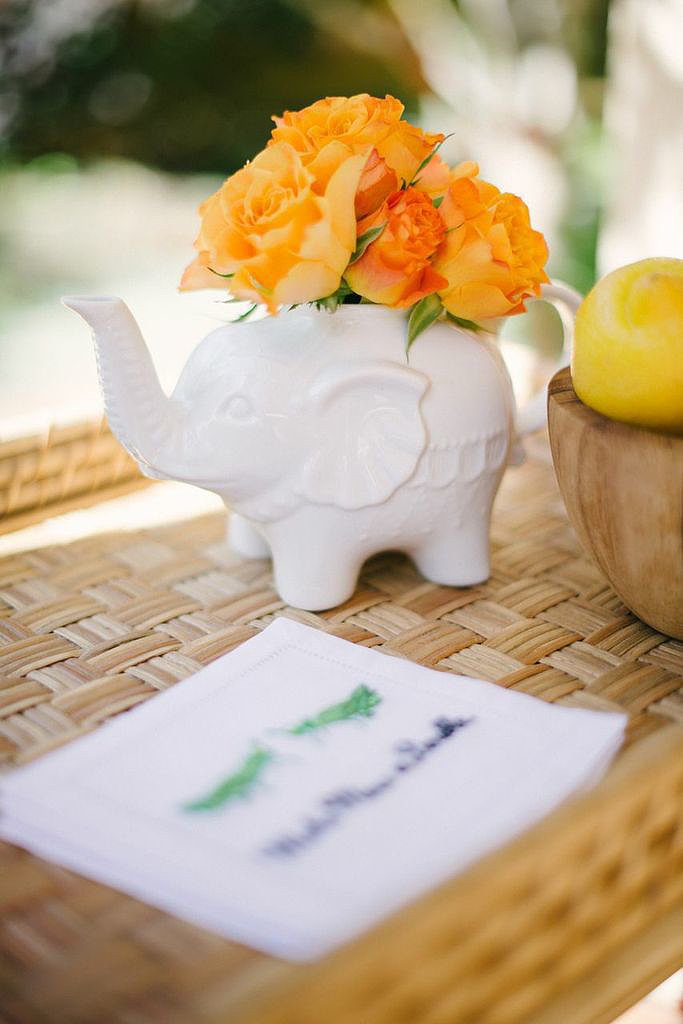 Speaking of tea, we can't think of a cuter no-fuss vase than a teapot. Remember that grocery store bouquet? This is the part where you separate your ferns for the table spread and snip your stems to make a small, tight bouquet. It couldn't be more fail-proof.
Source: Kristen Loken Photography [15]
Be Tray Chic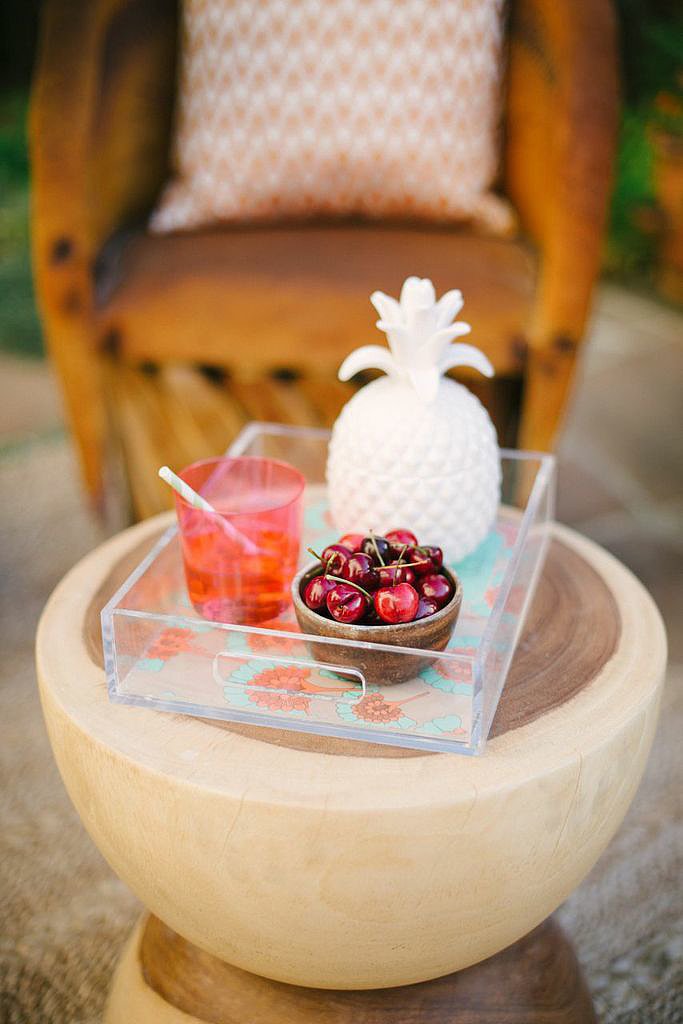 Part of our list of decorating essentials you didn't know you needed [16], trays add instant polish to any situation. Follow our lead, and use it as a giant coaster or a tool to corral small snacks!
Source: Kristen Loken Photography [17]
Embrace Food Screen Foolery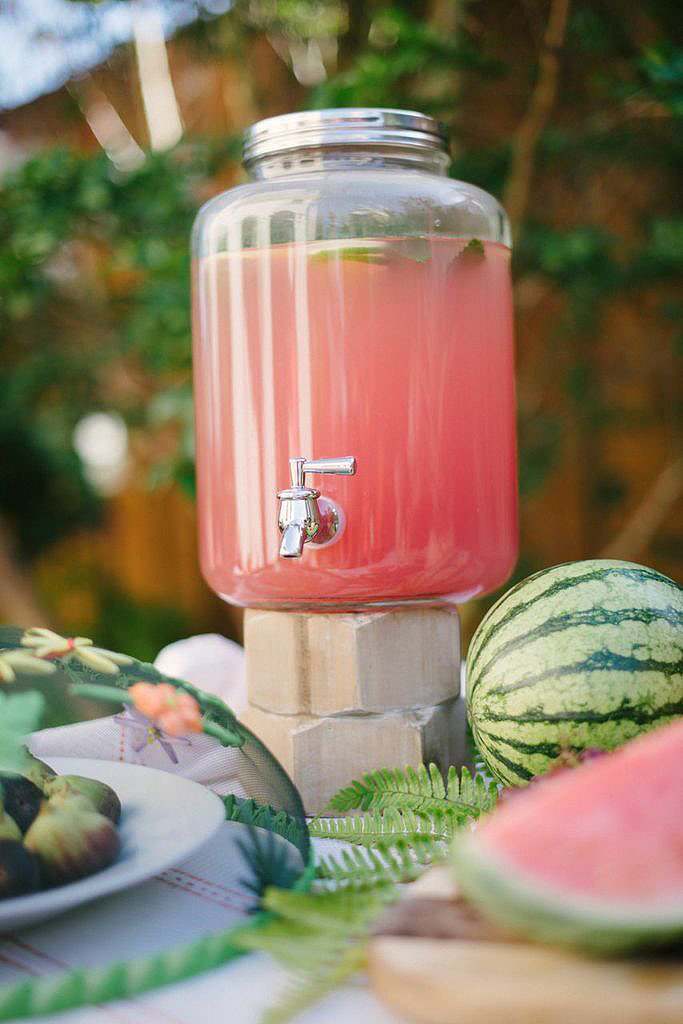 When it comes to stylish outdoor entertaining, food screens work twofold. There's the obvious reason of keeping insects at bay, but a good-looking screen can also hide food styling imperfections while adding a decorative element to the table.
Source: Kristen Loken Photography [18]