Designer Spotlight: Kathy Dalwood
London-based artist and designer Kathy Dalwood runs an interior design service called Shift, where she offers smart, practical approaches to dealing with space issues and living with a distinct visual style. She also creates contemporary mirror collections in acrylic, perspex, and glass, using computer technologies, and has been known to sculpt figurines, urns, tiles, friezes, soap dishes, planters, and public commission pieces. Her work has been featured in World of Interiors, Elle Decoration, Grand Designs, Living Etc, *Wallpaper, Frame, and idFx, and she has received several design awards. Sounds like a busy life!
I love the pops of color Kathy uses in interiors, be it lining a lampshade or the shelves of a bookcase, as well as her affinity for tapestries. Check out the gallery below to see some of her work.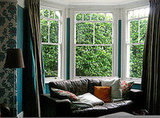 There's more where these came from, so read more.