DIY Drawer Knob Project
DIY: Gemstone Cabinet Knobs
Here's a cool DIY project, perfect for updating a tired dresser or cabinet, from eco-designer Danny Seo. This project is featured in Danny's new book Upcycling.
Two decorating secrets in updating a kitchen on a dime are to change the color of the walls with a fresh coat of paint, and swap out dated cabinet knobs with new ones. In my kitchen, you don't have to do the tedious task of unscrewing each knob to give them a fresh look. Upcycle your old knobs with a colorful collection of geodes, sea glass, or minerals and ultrapowerful glue.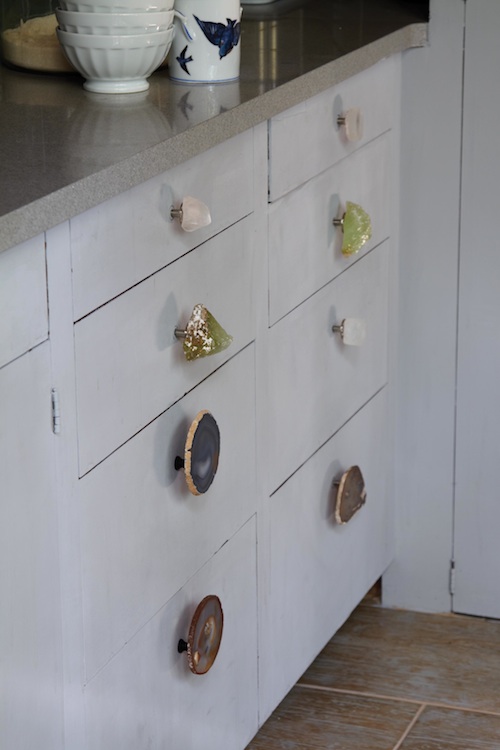 What You'll Need:
Old knobs or drawer pulls
Mineral or rock slices or pieces
E-6000 glue
Low-adhesive painter's tape.
How to Make It
Using E-6000 glue (available at Michael's craft stores), squeeze a generous amount onto the front of the knob and attach a mineral or rock onto its front.
Don't try to use a different brand of glue for this project, no matter how powerfully strong it may promise on the package. I've used them all, and E-6000 is the best of the best for this.
Using low-adhesive painter's tape, secure the rock onto the knob, so it doesn't slide off as it dries.
Allow it to dry for a full 24 hours and remove the tape.
Thanks Danny! Want to see even more eco, upcyled decorating and entertaining projects? Then pick up Danny's new book Upcycling.