Cool Idea: Garage Door Façade
When architect Bill Peterson decided to renovate his 16-foot-wide brownstone in Manhattan's East Village, he was determined not to be drastically modern. He wanted to maintain some of the circa-1869 building's history, but at the same time, wanted to use new technologies. The result? Trickery.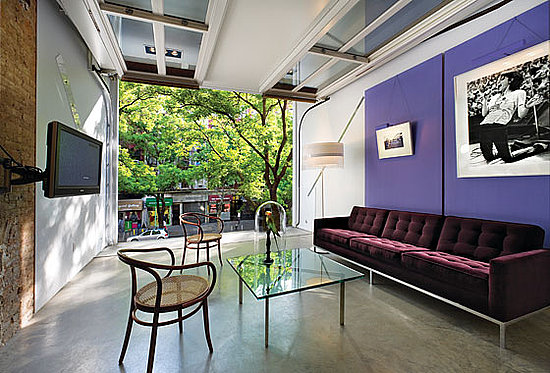 He built a façade for the structure's second floor, which can be raised like a garage door in just a few minutes, opening up to its modern living room. The feature offers a Manhattanite a rare thing: private outdoor space (well, semi-private). For safety, an ultra clear glass barrier was installed as a barrier. And to keep bugs and heat out, an air curtain wall system shooting high velocity air from the ceiling was used. Pretty clever, eh? Since the revealing façade is on the second floor, pedestrians can't really see in, and the trees across the street block some neighbors from seeing inside. But really, it's a living room, not a bedroom, so who really cares? See a photo of the living room with "the door" closed.