Card Catalogue Ideas
Currently Coveting: Vintage Card Catalogues
This back-to-school season, we want just one thing: a vintage card catalogue. Our Kindles may keep us far away from the library these days, but the nostalgia of searching through actual "nooks" using the Dewey Decimal System is hard to forget. The handsomeness of those compact compartments lives on and transcends technology! If you're like us and covet one for your home, try browsing Etsy, flea markets, or your local salvage yard. In the meantime, here are some ideas to go about using your card catalogue once you finally have one in your clutches!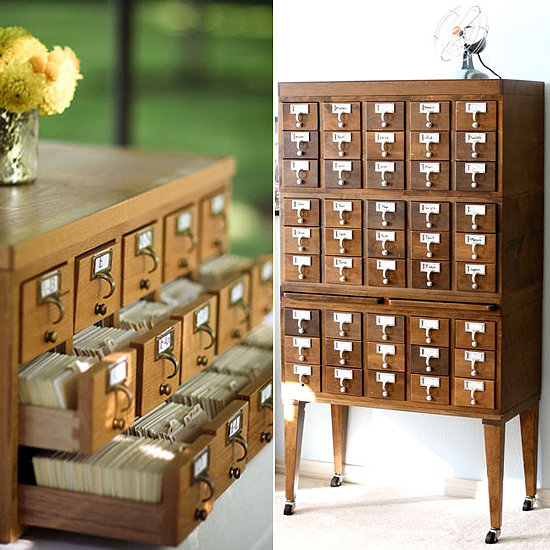 Desk Organizer: There are two common types of card catalogues available: large units (pictured above) and smaller drawer units. The latter makes a stylish touch to an office and works well as a desk organizer.
Planter: For those with a green thumb, old card catalogue boxes make great planters or even centerpieces for your next party. Opt for metal catalogue boxes or drill a small hole through the bottom of a wooden box to allow for proper draining.
Kitchen Storage: A card catalogue can make a statement in a kitchen; they're perfect for storing everything from spices to recipe cards.
Craft Box: Probably one of the best uses for vintage card catalogues is for craft storage. Because there are so many compartments, you can keep your supplies neatly organized and labeled.
Escort Cards: For a vintage touch at a wedding or party, use a card catalogue to display escort cards — no doubt, it will be easy for guests to find their name!